Ower Trail Running is a newly setup trail running events company aimed at relay teams, solo runners and canicross runners. 
Our 5km offroad track, located at Ower shooting ground, just outside of the Hampshire town of Romsey features open fields, woodland tracks and plenty of water stops for our canicross runners.  We will also be offering camping at our events, which will run throughout the autumn and winter months. 
Follow our socials or contact for more information on our events.
Please ensure you read our race T&Cs further down this page, as you will need to agree when reserving your place.
For any other questions please get in contact
What to expect
Medal's
Prizes
Chip Timing 
Free onsite Parking
Onsite Camping
Event Toilets
Photographer 
5 & 10km Canicross faster K9's to start at 09:00 with 20sec start times, small waves released after every 30 seconds
Kids 2k race Between 10:20 - 10:50
Course
Ower Trail runs by their very nature feature uneven ground and parts of the course may be slippery. Runners accept full responsibility for their actions and Ower Trail Running will not be liable for any loss, damage, injury or illness caused as a result of participating in any of our events. Ower Trail Running recommends trail running footwear for events, however, no running spikes are permittable.
Juniors under 16
Ower Trail Running fully accepts its duty of care and will do everything it can to minimise risk of injury and harm to all participants whilst at Ower Trail Running, it is parents / guardians who ultimately have responsibility for the welfare of their children.
Participants must be at least 16 years of age for all events, other than the "kid's race"
It is not mandatory for a parent or guardian to participate in kids races, but children under the age of 16 must be accompanied to and from the event by a responsible adult, and the responsible adult must remain in attendance for the duration.
Dogs
We ask those not taking part in the event with their dog to keep their dog on a lead during the day. For those taking part in the canicross 5k or 10k, correct harnesses are required, and no collars are tolerated. Race entry may be forfeited with no refund if incorrect equipment is used as this is an Animal welfare issue.
Dog waste should be collected and disposed of in the skip by the track.
Public liability insurance is required for all canicross runners, and proof may be required to be shown on the day.
Medical conditions
By participating in and undertaking any of our events you confirm that you are fit, healthy and have an appropriate level of fitness for the event for which you are booked. You are responsible for informing Ower Trail Running of any medical or non-medical details that may affect your or another participants safety and enjoyment. All medical conditions will be treated in a confidential manner.
Event Cancellation
If an event is cancelled by Ower Trail Running due to unforeseen circumstances, we aim to give you at least 24 hours' notice, where possible, and you will be entitled to a full refund or the opportunity to transfer your booking to another event.
Winners from 25th November sponsored by Snowpaw store
5km Canicross
Ladies     1st     Rebecca Hughes       23:49                                                                    2nd   Amy Houldsworth       25:55                                                                    3rd    Amanda Allen-Maher  26:41     
 Men's      1st     Andrew Andreou        17:30                                                                    2nd    Alexis Grice                17:31                                                                  3rd     Robert Bryan              21:59
5km SOLO
Ladies     1st    Leila Brocklehurst      42:03   ( prize to collect )                                                                
 Men's     1st     Adam Frame             27:10                                                                
2.5km KIDS RACE
We had two Isabella's running the race and they both did an amazing job
coming in at 16:00 that pretty good going for the small people at only 7 and 9 years old… might lend them a dog next time…                                                               
10km Canicross
Ladies     1st     Ellie Monks       46:13                                                                            2nd   Lizzy Stocker    50:26                                                                              3rd   Daisy Hickman   54:50
Men's     1st   Graeme Miller    40:55                                                                             2nd  Joel Eaton         42:44                                                                             3rd   Ben Lewis         43:07 
10km SOLO
Ladies     1st   Laura Lovett    1:27:30                                                                           
Men         1st   Neil Bichard    1:27:31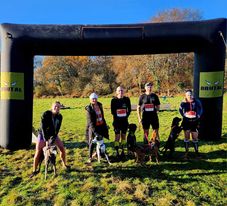 Winners from 16th September sponsored by K9Trailtime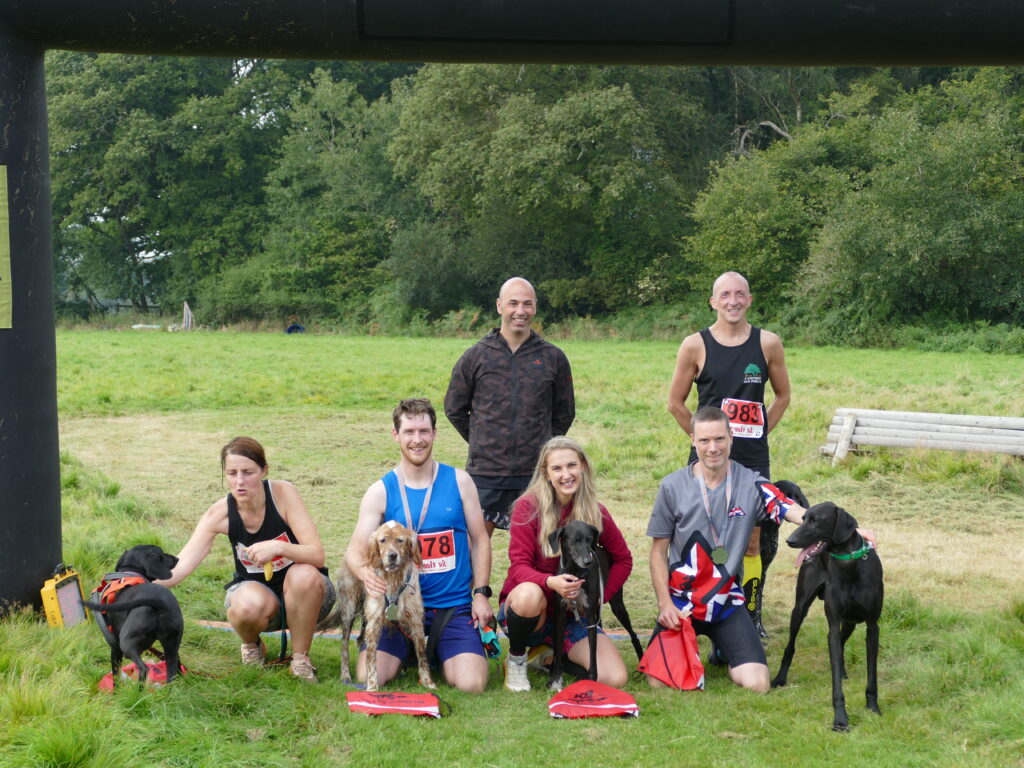 5km Canicross
Ladies     1st     Georgie Lambert    19:20                                                                      2nd   Natalie Pannell        22:57
 Men's      1st     Alexis Grice           19:24                                                                       2nd    Andrew Andreou    20:58
10km Canicross
Ladies     1st     Kelly Mills      56:56                                                                                2nd   Stephanie Christensen    1:16:12
Men's     1st   Charles Beard     43:20                                                                           2nd  Graeme Miller     43:42